SFT/XE SERIES – Compact TV TRANSMITTER – UHF – Air
Reaching the highest technology level in both TV Digital Signal Processing and RF domain
The new generation of transmitters SFT/XE , with is high efficiency, reaches the highest technology level in both TV Digital Signal Processing and RF domain. Thanks to the combination of ARK-X new exciters and SFK/XE amplifiers, these transmitters grant stunning performances , have an extremely high configuration flexibility and can be totally controlled remotedly. The smart and compact design of these transmitters allows a quick and inexpensice maintenance, while the control panel and web interface makes it intuitive and easy to control and configure.


N+1
The N+1 logic control units reduce the need for multiple backup transmitters by ensuring automatic switching in the event of a failure and automatic loading of the faulty transmitter configuration onto the spare one for a system always at full power.


XET
XET ™ (eXtreme Efficiency Technology): using the latest generation of LDMOS devices, more robust and efficient than in the past, and with a special low-loss design of the matching and combination system, together with very high efficiency power supplies (over 96% efficiency ), this technology allows surprising transmission performance and several advantages: greater efficiency, compact dimensions and reduction of cooling systems are just some of the improvements obtained. The XET technology, applied to the amplifier section of the TV transmitters, guarantees an RF efficiency higher than 50% and an overall efficiency up to 42% without decreasing the performance in terms of M.E.R. (modulation error rate) and shoulder.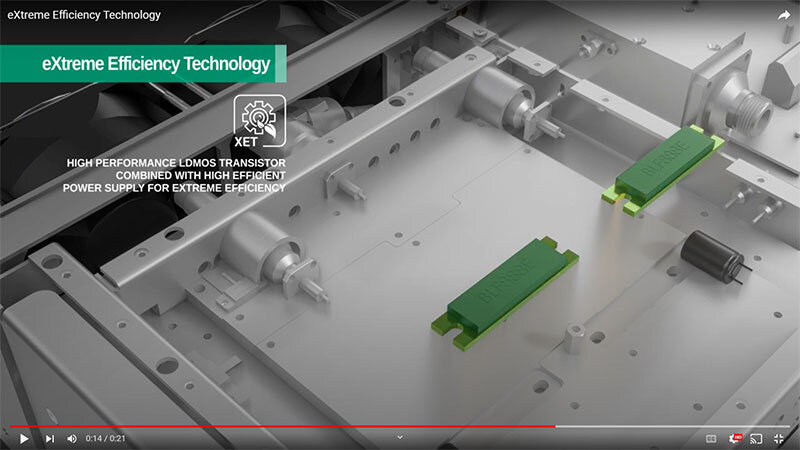 Feel free to contact us for any type of assistance you need